Brass Earbud Bracelet Poll
MP3 Accessory Bracelet: Totally Geeky or Geek Chic?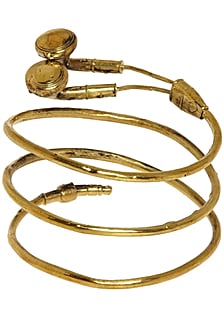 Check out my latest earbud-inspired jewelry find: the MP3 Accessory Bracelet ($83) from ModCloth. The polished brass bracelet is designed to look like a pair of earbuds wrapped around your arm, and features incredible detail — right down to the connecting plug! Though it's a little pricey, I love this bracelet — definitely an item for the wish list!
Most of you approved of the last piece of earbud-inspired jewelry I posted about. How do you feel about this one — totally geeky or geek chic?