Breaking Bad Ebook
Heisenberg and Jesse Pinkman Hit the iPad in Breaking Bad: Alchemy
Over the course of five seasons, Breaking Bad fans have watched Walter White evolve from cancer-stricken high school chemistry teacher into drug empire overlord. On August 11, Walter's fate will be determined before viewers' eyes when the show airs the second half of its final season.
But before diving into the show's nail-baiting last moments, learn about the most illicit chemical compounds, pay homage to the characters who've lost their lives, and relive the series' most heart-pounding scenes in Breaking Bad: Alchemy ($8), a new interactive ebook available now on iTunes.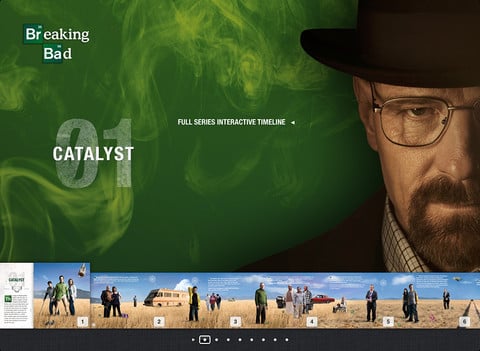 Breaking Bad: Alchemy is a comprehensive second screen experience for the show. It features eight chapters packed with timelines, chemistry facts, music from the show, and exclusive interviews with the creators and producers. One section, "Crystal Clear," focuses entirely on the unique camera angles and color techniques employed throughout the series.
This digital companion is a must for any Breaking Bad superfan. At an Apple Store event in New York, creator Vince Gilligan said that, "it's like buying a book that will continue to get updated." Alchemy will, in fact, be revised once the final episode hits the airwaves.
As you wait in anticipation for the culmination of AMC's hit series, bide your time with the Breaking Bad ebook's 120 pages and 350 interactive features. It's priced at $8, only for a limited time. Prices may go up once the show is over.