CES Buzz Trends
CES Buzz by the Numbers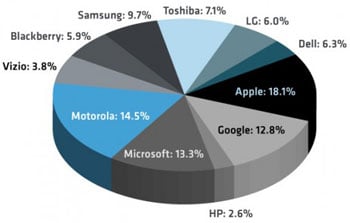 We spent a lot of time tweeting and posting to Facebook over the CES weekend, and participating in the overall buzz of the event. You know which products were our faves, but which were the most buzz-worthy overall? Info site Webtrends takes a look at the most talked about company, phone, and tablet at this year's expo. Check out the results here!
Company
Samsung came out on top as the most talked about company, thanks in part to its new laptops and tablet hybrids. Closely following is Google and Microsoft. Surprisingly enough, despite much Xoom tablet fodder, Motorola placed fourth.
Celebrity
As we touched on before, Lady Gaga came out on top as the most talked about celeb on the Internet, but 50 Cent pulled ahead of Darth Vader in the end, taking second place in the buzz meter.
Find out which OS, phone, and tablet had the highest buzz factor after the break.
OS
Android was the clear winner of buzz-worthy OS, especially with the introduction of Honeycomb.
Phones
Even though Apple wasn't present at CES, the news surrounding the Verizon iPhone pushed it to the top of the buzz-o-meter, according to Webtrends. Coming in second is Sony Ericcson with the Xperia, and Microsoft with the Windows Phone 7. Motorola pulls up the tail end of the top four with the Atrix.
Tablets
Again, Apple takes top billing for its iPad buzz during CES, but Motorola was closing in with its tablet news, along with the Microsoft, Google, and Samsung, who received the second, third, and fourth most talked about tablets, respectively.