CNET Women in Technology Panel Video at CES 2012
CNET's Women in Technology Panel: Where My Ladies At?
We just arrived back in San Francisco after a whirlwind four days at the Consumer Electronics Show in Las Vegas, and while we're still processing the stats, data, information, and products we've seen, there is one thing we noticed: there's an obvious disconnect in the ratio of men to women at the show.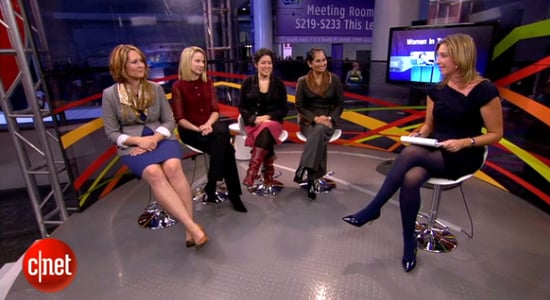 CNET brought together some of the most influential and powerful women in the tech field — including Padmasree Warrior of Cisco, Marissa Mayer of Google, Caterina Fake of Hunch, and Lindsey Turrentine of CNET — at this year's CES to talk about the state of the tech industry, pink gadgets, and how to strike a balance between work and home. You can see the entire panel (it's about an hour long) in the embedded video after the break, but first, a few highlights:
The general consensus is that women have come a long way in terms of the technology field, but there's a lot more work to be done.
Marissa Mayer says that more students (men and women) should be exposed to computer science at the high school level, so that they have more of a chance to get into the technology industry after college. "When speaking about women in technology, it becomes a numbers game, but it's not about the size of the slice of pie, it's the size of the pie as a whole; we need to make the pie bigger, and expose women to computer science earlier."
Caterina Fake lets her daughter in on her work life in order to make her feel included. She conducts family meetings every morning around the breakfast table to talk about what worked yesterday, what they could do better today, and the goals they have for the week ahead.
Lindsey Turrentine says that one of the most important things you can do for your children is to show a strong partnership at home. When raising kids — girls and boys alike — it's important to show that you can do both: have a strong family and lean on each other to pick up the slack when work needs to be done. No one's career is more important than the other.
See what all of the amazing women had to say about the state of the tech industry for women in the full video after the jump.