Can an Email Address Hurt Your Rep?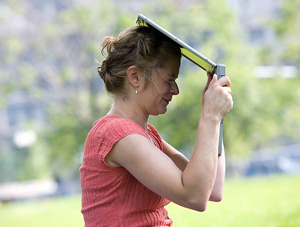 Sure, that sounds like a silly question, but can a geek girl (or even potential employer) stay neutral on the topic? A recent opinion piece in the Chicago Tribune asserts that you can be judged by your email address. The author admits to keeping an AOL email address, even though she was slightly embarrassed to give it out or use it too often. She then developed what she calls "email address envy" every time she'd communicate with someone with either a corporate or .edu address. Eventually, the author chose to keep her @aol.com address, with the hope it would become "retro-chic."
I don't change my personal email address too often, and I'm pretty settled on the Gmail train for the time being, but when I do encounter someone with an old-school email address — usually AOL or Hotmail, maybe even Yahoo — I'll admit to doing a double take. And I admittedly suffer a little bit of email address envy myself when talking to someone with a shiny @mac.com address. Do you have a preference? And do you think an email address can really hurt your rep?