Can an iPad Replace My iPhone?
26 Percent of Twitterers Upset the iPad Can't Replace iPhone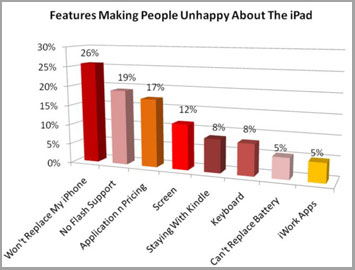 If you weren't waiting in line for an iPad (or even if you were), you were probably also tweeting about the new tablet — reasons you were buying, how long your wait was, and why you weren't throwing down a minimum of $500 for the new Apple tablet. While you were tweeting, a company called Attensity analyzed all iPad-related tweets during launch day and came up with some interesting results. Although 87 percent of Twitterers had intentions to buy the iPad, 26 percent of tweets expressed disappointment that the iPad can't replace their iPhone.
The biggest gripe about the iPad that I've heard so far is the lack of Flash support (which came in second place for Twitter complaints at 19 percent), but I don't think I've ever heard anyone lament the fact that it can't replace an iPhone. First off, it would be a little difficult to maneuver, and too heavy to carry around on a daily basis. Although it's news to me, I'm wondering if you agree — are you upset that the iPad can't replace your iPhone?