CanvasPop Instagram Wall Print Review and Picture
Trade the Ikea Prints For Instagram Wall Art
Blame it on the dozens of downloaded photo apps and high-quality cameras in smartphones for our obsessive photographing and documentation of everyday life. Since there are tons of ways to print Instagram photos, I wanted to see how the square lo-res images translate to wall-worthy prints. Using CanvasPop, I turned an Instagram print from a memorable weekend into gallery-style canvas art as seen here.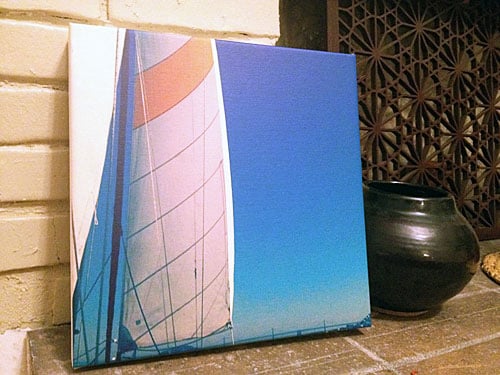 Available in two sizes: a 12-inch stretched canvas square ($30 for a limited time) and a 20-inch stretched canvas square ($60 for a limited time), each canvas comes outfitted with a sawtooth hook for easy at-home hanging. The entire CanvasPop ordering process was as simple as taking an Instagram itself. Select a canvas size, a white or black canvas edge (which is not seen from a head-on view of the print), then the image itself by signing into your Instgram account on the site. If a retro border is what you want, be sure to select a photo from your Instagram library created with a filter that has a built-in border like Lomo-fi or Earlybird.
My 12-inch print was ordered during the hectic holiday season, but even with national holidays accounted for, it only took about two weeks for the finished canvas print to arrive nestled in a very secure cardboard box. I'm eager to make a few more prints for a pretty wall vignette while the introductory price deal is still on, since it's hard to rationalize $80 per print, despite the expert craftsmanship. The photo and filter colors on the canvas were nearly spot-on to the original image, just slightly more saturated, which actually seems appropriate considering I usually only see Instagrams in their tiny phone-sized resolution.
Whether it's a college dorm room or your first "grown-up" apartment, the CanvasPop Instagram print is a high-quality and affordable way to decorate with favorite memories.