Captain Marvel Cosplay
Tweets of the Week From Geeks We Love
This week in the Twitterverse, our favorite geeks prepared for next week's San Diego Comic-Con and met iconic geeks through history. Felicia Day geared up for Geek & Sundry's SDCC off-site, comic book writer Kelly Sue DeConnick shared some punk Captain Marvel cosplay, and Mr. and Mrs. Stan Lee brushed shoulders with a former president. See Felicia, Kelly, Stan, and more in this edition of top tweets of the week from geeks we love.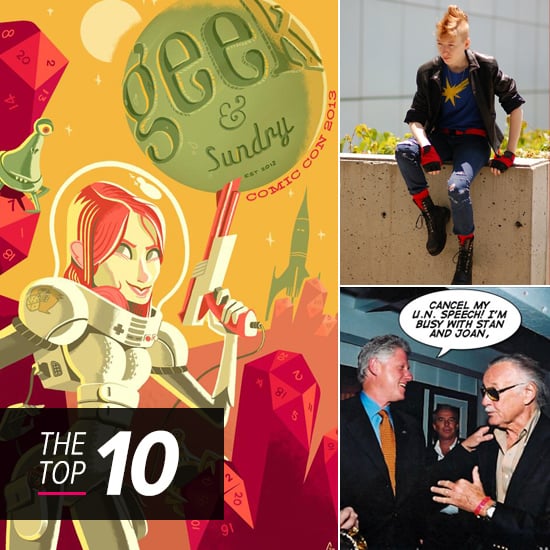 Actor Wil Wheaton made an accurate prediction about the Syfy channel's surprising hit Sharknado, a made-for-TV movie about a massive storm that sweeps a swarm of sharks to shore.
"We lost the night to #SharkNado? What the hell is that?" - every non-syfy network executive tomorrow morning.

— Wil Wheaton (@wilw) July 12, 2013
StarTalk Radio host Neil deGrasse Tyson makes the case for mathletes.
There are three kinds of people in the world: those who know math and those who don't.

— Neil deGrasse Tyson (@neiltyson) July 9, 2013
More tweets from our favorite geeks after the break.
Captain Marvel writer Kelly Sue DeConnick spots a punk Shazam at the Anime Expo in Los Angeles.
Punk!Captain Marvel at AX. http://t.co/jRHCKIG49q

— Kelly Sue DeConnick (@kellysue) July 10, 2013
Will you be joining Geek & Sundry's Felicia Day at San Diego Comic-Con?
RT: @GeekandSundry: Deets on our AWESOME offsite space at SDCC http://t.co/mHD9v9OMrT Stop by for limited ed poster! pic.twitter.com/MBFpQFf62l

— Felicia Day (@feliciaday) July 11, 2013
Writer Simon Pegg debuted his latest film, The World's End, a sci-fi comedy directed by his longtime collaborator Edgar Wright.
Um @edgarwright, about last night... http://t.co/zfOfMlmFMX

— Simon Pegg (@simonpegg) July 11, 2013
Author Neil Gaiman gives his hand a break while on tour to promote his latest novel, The Ocean at the End of the Lane.
The icing of the signing hand: a meditation on getting what you thought you wanted. http://t.co/w4Si10GR50

— Neil Gaiman (@neilhimself) July 12, 2013
Former Marvel Comics president Stan Lee and wife Joan Lee have a run-in with another former president — Bill Clinton!
Your #Generalissimo is highly acclaimed for his astounding advice. http://t.co/GlLWRlrhTP

— stan lee (@TheRealStanLee) July 3, 2013
We'd certainly rest our weary heads on this LSP pillow by The Star Wars Craft Book author Bonnie Burton, who celebrated a birthday on July 12!
@POPSUGARTech @welovefinetees: Totally! Did you see my Lumpy Space Princess pillow craft? #AdventureTime pic.twitter.com/oHKTCyPMJH

— Bonnie Burton (@bonniegrrl) July 11, 2013
Star Trek Into Darkness director J.J. Abrams relived the Lost days.
Spring 2004. Oahu, Hawaii. #Lost #ThrowbackThursday @LarryFong @DomsWildThings @DamonLindelof pic.twitter.com/rjRWgmxeTH

— Bad Robot (@bad_robot) July 11, 2013
Curiosity rover flight director Bobak Ferdowsi meets another space pioneer: American astronaut Buzz Aldrin, who was the second person on the moon.
@mirellytaylor @ryankeely @michelleehrman ditto - @TheRealBuzz is the best. pic.twitter.com/7F0uT2yvkM

— Bobak Ferdowsi (@tweetsoutloud) July 10, 2013