CardMunch Digital Business Card Service
Low Tech Meets High Tech With the CrunchMunch Business Card Reader
Google Goggles may be able to identify printed words, and numerous business card-reading apps for the iPhone and BlackBerry promise to scan cards and store data. But for a new company, this technology can't beat actual human inputting of contact information.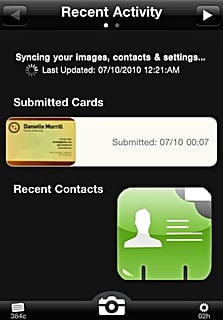 CardMunch for iPhone, a recently launched $3 application, allows users to take photos of business cards (using software built directly into the app) and submit them to CardMunch's team of "real humans," who transcribe the cards into an iPhone contact format, and syncs the contacts to your address book. CardMunch also backs up your contacts' information in an online database in case they are ever deleted from your phone. A handy service, but it comes at a price.
Transcribing one card costs 25 cents; CardMunch offers pricing packages for 40 cards ($10),100 cards ($25), and 400 cards ($100). If you want to give the service a try, you can download a free version of the app, which gives you five free card uploads.
Find out more about the service after the break.
If there are any problems with your contacts after they're delivered, tap on the "reject" button. You can only reject an input credit seven days after you receive it, and you can't reject a contact after you've used it, so be sure to check them immediately.
If you're someone with a huge stack of business cards on your desk that lack any real organization, this may be a good option for you. Me? I'm having flashbacks to one of my first jobs, where I spent hours upon hours updating my boss's contact lists. However, if you gather handfuls of business cards at networking events or other gatherings, why not just spend the extra five minutes and save the cash by uploading them yourself?