Carmen Sandiego Computer Game
Vintage Geek: What I Learned From '80s Computer Games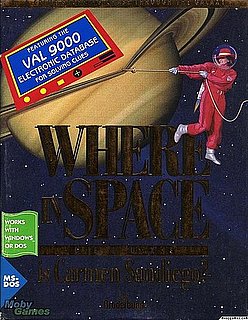 It was a gorgeous weekend here in San Francisco, so I took advantage of it to go on a night walk with some friends. We started talking about how Jupiter was the closest to Earth in 50 years (if you noticed a bright star close to the moon last week, that was it!) and how you could see four of Jupiter's moons with just binoculars. I realized that everything I knew about these moons was straight from one of my top geeky computer games of yesteryear — Where in Space is Carmen Sandiego?
That feisty fugitive taught me a lot of facts about space, not least of which are that Io looks like a pizza and that Europa is a frozen ball of ice with water underneath. Who knew that while I was chasing all those V.I.L.E henchmen around I'd actually retain the information years later?
So, fellow Carmen Sandiego fans, which game was your favorite? Where in Time? Where in the World? Or did you have another go-to geeky computer game?
Want to reminisce about the olden days of tech? Join our Vintage Geek Group and get in on the fun, and your story could be featured on GeekSugar!
Photo source: Moby Games