Celebrity Twitter Feuds
Celebrities Airing Dirty Laundry on Twitter: Love It or Leave It?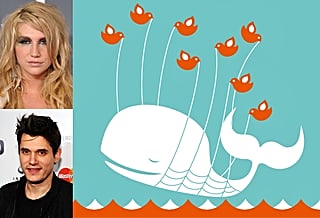 You already know that I am not a fan of Twitter TMI. It's not that I don't like you and want to know what you're up to, but some things are better said IRL. And some things, well, they're better left unsaid. Celebrities are definitely not immune to oversharing their business on Twitter. Trust me, it is never OK to broadcast a pic of your wife's backside to the Twitterverse — ahem, Ashton!
Despite their millions of followers and a brand to uphold, celebrity Twitter blunders keep on happening — will the rich and famous ever learn? Not this week, that's for sure. In one corner, we've got quite the Twitter war waging between musicians Courtney Love and Lily Allen. The pair's longstanding feud got taken to a whole 'nother level when Lily posted a not-so-nice twitpic of Courtney. This sent Courtney into what can only be described as Twitter rage. In 30+ tweets and still counting, Courtney has dragged Lily through the mud, leaving nothing off limits. Ouch.
But it's not all bad between celebs on Twitter. King of the overshare, John Mayer and pop princess, Ke$ha are getting their flirt on in a very public way. I think we'll have to accept that despite the apologies, you can't put a cap on John.
Famous or not, this is all too much for me to handle, but I have a handful of friends that like it when celebrities overshare on Twitter — it makes them feel like they have an insider's view into a celeb's life. There are many celebs, like Ashton Kutcher and Demi Moore, who have even admitted that part of the reason they share so much on Twitter is to upstage the tabloids by sharing with their fans directly. What do you think?