Cell Phone Hand Stand: Totally Geeky or Geek Chic?
Cell Phone Hand Stand: Totally Geek or Geek Chic?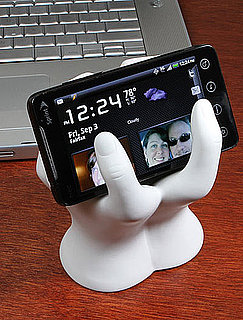 It seems like inanimate hands are everywhere! Like me, most of you were creeped out by this iPhone hand charger, but what do you think about this cell phone texting hand stand? Like most of us, this baby would rather text than talk, and is ready to show it!
For $15, you can declare your love for data over voice with these texting hands that cradle your cell phone when it's not in your own mitts. Made of soft resin and heavy enough to serve as a paperweight, this stand also tilts your cell phone just right, so you can check on incoming texts but still be real-hands-free. Would you add this to your geek-chic desk, or is it totally geeky?
As for me, I'm keeping these digits well away. No matter if it's totally geeky or geek chic, it's still all creepy to me!