Is Chatroulette Good or Bad?
Chatroulette: Love It or Leave It?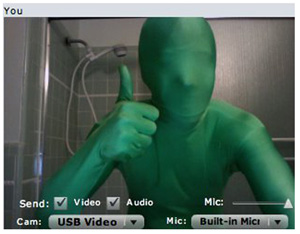 What started as kind of a social experiment created just for fun by a 17-year-old Russian whiz kid has turned into an Internet phenomenon. Besides trending on Twitter and even being recognized by a New York Times article, the site has users and nonusers alike buzzing about its sites pros and cons. Basically, Chatroulette is a random social networking site that uses webcams to pair random users for chatting — a kind of speed-dating for social interaction.
Using the site is simple. As long as your computer has a webcam, just log on to Chatroulette and click play. You're then paired with a random stranger from anywhere in the world to talk (or not talk) to. Concerns around the site stem from the obvious: inappropriate behavior. The site contains a disclaimer: "Chatroulette does not tolerate broadcasting obscene, offending, pornographic material and we will have to block users who violate these rules from using our service." Of course a small disclaimer won't prevent everyone from engaging in terms of service violations, so users understandably run that risk. The problem is that it leaves the door wide open for a lot of scariness — getting paired with an ugly naked guy is one thing, but thinking about all of the other inappropriate uses is a little mind-blowing. On the flip side, the randomness of the social website is exciting and, when used properly, could be pretty cool. I haven't used the service yet (I'm a little shy, OK?), so I can't voice a definitive opinion. What do you think?
Source: BuzzFeed