I thought LA traffic was bad! In what seems to be the worst traffic jam ever, Chinese drivers have been stuck in a 60-mile-long (and counting) pileup on the National Expressway 110 route from Beijing to Zhangjiakou that isn't expected to let up until mid-September.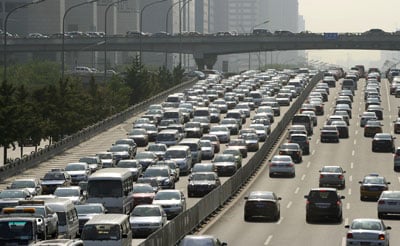 It all started on Aug. 14 when construction on the expressway caused traffic to slow to a crawl, and just kept growing from there. Construction is slated to end on Sept. 17, which should help to disperse some of the congestion. Until then, drivers are playing games, sleeping and eating in their cars, and even planning concerts and shows for fellow motorists.
I've been stuck in some major traffic jams in my day, and the only thing that has gotten me through is my gadgets. Traffic delays are almost a rite of passage for Summer road trips, and whether it's my laptop for watching movies, my iPhone for browsing apps, or my iPod that keeps me entertained, they all act as lifesavers when I'm bored in the car. What gadgets could you not live without during a traffic jam?