Chris Hardwick on Conan O'Brien
4 Reasons to Fear Your Future Nerd Overlords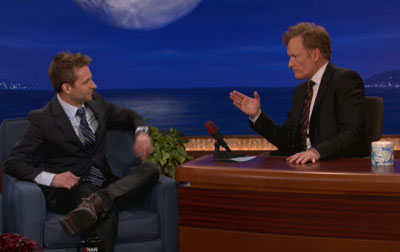 Web Soup and Nerdist podcast host Chris Hardwick appeared on last night's Conan O'Brien where he broke down why nerds are taking over the world. First nerds made it socially acceptable to get giddy over the latest Apple offerings and music-sharing service, and now they are taking over. Here are four reasons to fear the new nerd.
"A jock will hit you; a nerd will ruin your credit."
Nerds are dedicated enthusiasts to their favorite hobbies, so don't come between them and their favorite Comic-Con panel. As Conan and Chris recall, the gentle "click, click" of a mechanical pencil is not always innocent.
Nerds aren't afraid to be themselves, and confidence is always appealing.
They will hurt you with the funny. Expect long hours of being doubled over laughing hysterically.
We may have added the last one ourselves, but check out the full Conan interview after the jump for full nerd domination.
Nerdist will be at Comic-Con taping a live podcast with guests Matt Smith and Karen Gillan of Doctor Who, who have brought their own geek-chic edge to the sci-fi series.