Chris Hardwick New Show, Book, and Interview
Chris Hardwick on His TV Show, Doctor Who, and Star Trek Battles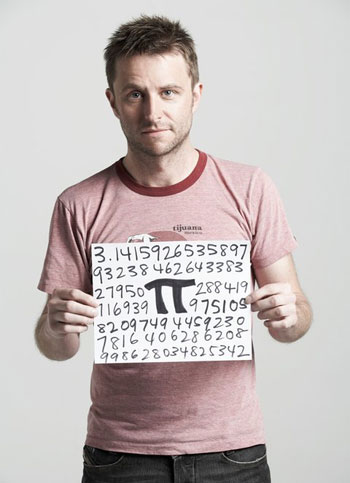 With an upcoming special on BBC America and book slated for a Fall debut, we caught up with Nerdist Chris Hardwick for more details on the TV show, viral video culture, and his nerdiest facts.
Taking the Nerdist blog and podcast format to television, Chris's half-hour BBC America comedy special called, Nerdist, naturally, will air on Sept. 24 at 10 p.m. Joining the show to talk all things nerd and pop culture will be infamous Doctor Who fan and talk show host Craig Ferguson and the not-so-secret special guest: the doctor himself, Matt Smith.
You may remember him as host of dating game shows Singled Out and the under-the-radar gem, Shipmates, but with his place as unofficial ambassador of current geek culture, we asked Chris for his expert take on all things nerd.
On his love for Doctor Who — "I haven't watched any of the previews, because I love the show so much that I want to be as surprised as possible. I watched the prequel to the episode, because they obviously wouldn't spoil anything in that, and it would just be setting up the episode."
As host of Web Soup, you see a lot of Internet viral videos. What percentage of the Internet do you estimate to be videos and photos of cats? — "64 percent, I think it's pretty high. Cat videos are the glue that keeps America together."
Singled Out or Shipmates — "They were both delightfully horrible in fun ways. Shipmates was fun, because they let me say whatever I wanted. I would literally finish an episode of Shipmates by saying, 'Thanks for watching. Be sure to root for Gryffindor in the upcoming Quidditch trials,' and they never said I couldn't do it. But probably Singled Out, because I was right out of college and it completely redefined my life."
Best nerdy pick-up line — "I'd like to upload this file to your hard drive."
Follow the break for more of Chris's nerd picks and his choice for victor of the ultimate Star Trek battle.
Star Trek: The Original Series or Star Trek: The Next Generation — "I gotta go original series. I love The Next Generation; it's a close second. But when I was a little kid the original series was what I watched. Those things that get to you early on in your childhood burrow deep."
Xbox or PlayStation — "Xbox."
Spotify or Pandora — "I have both, but I tend to use Pandora more. I think the reason I use Pandora more is Spotify gives you a little more control, and Pandora is a little more autopilot."
Who would win an arm wrestling contest: Kirk or Picard? — "I feel like Picard would win because he would find a way to diplomatically talk Kirk out of arm wrestling and, by default, be declared the winner. [Picard] would charm the alpha male of Kirk with his accent out of the arm wrestling contest. Picard would reason with him and find a diplomatic solution to the arm battle."