Chrome Niko Camera Bag Review
Chrome Niko: Serious Bag For Serious Business
The holidays are a perfect time to get cozy with your camera. The lights, the food, the weather, all of it makes for an awesome shot at a moment's notice. And if you need a bag that's going to stand the test of time, there's none better than the Chrome Niko Camera Bag ($95) to do the job. Chrome was kind enough to send me this bag to test out, and so far, I don't want to give it up. At first glance the Niko may not seem so "female-friendly," but on the contrary, it has no problem fitting smaller frames, and best of all, it's not too bulky.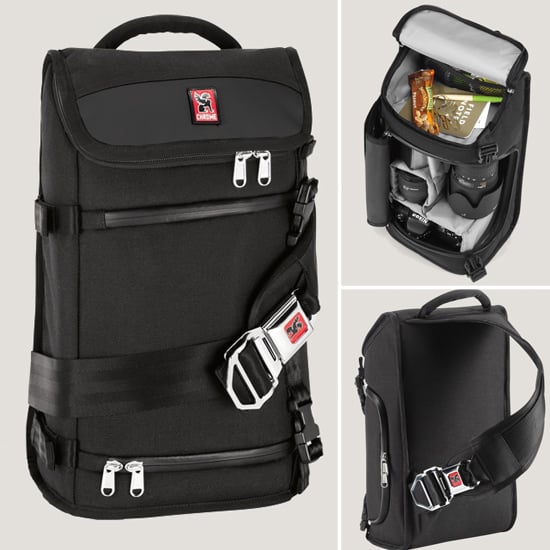 Made of tough military grade nylon, this bag can take a beating and come out the other side looking shiny and new. Cyclists and bikers will love the Niko since it's lightweight and compact, but offers amazing protection for your gear thanks to its padded interior and water-resistant zippers. The signature Chrome seat-belt chest strap offers a satisfying click when closed (which also doubles as a bottle opener for those beer-fueled hikes), and the waist straps help it stay snugly in place. I have worried that someone (or something) will accidentally hit the center closure and send my gear falling to the ground, which is a scary thought if you're toting an expensive camera. I will say that ladies with a larger chest may not find this bag desirable. The padded chest strap is wide, so it could cause an unpleasant and uncomfortable "separation of the girls" if you know what I mean.
See who I think the Niko is perfect for, and the one thing I wished it came with after the break.
As far as the interior goes, I've been sporting a Lumix GH2 with three lenses over the past few months, and think this bag is great for compact DSLRs and their assortment of accessories. There's plenty of room thanks to moveable compartment dividers, and lots of padding, however I would have liked to see more padding on the bottom of the bag to support any falls or drops. The top of the Niko comes with a great little zippered compartment for sunglasses, keys, wallets, snacks, or other items, so you can pack everything you need for a day trip or hike without a problem.
I do love the Niko — it gets high ranks from me in terms of function — but some may not like its style. It's rugged and utilitarian (but not bulky), and holds up to abuse, but let's face it — it's not very feminine. For lady photogs that want something a little more fashionable, I recommend a Jo Totes. However, if you are looking for a messenger-style bag that's going to be around for a while, safely hold all your gear (Canon T3i, Nikon 7D, and D90 owners will find it a great fit), and look bad-ass when you're riding your bike, the Chrome Niko should be a serious contender for your cash.
Update: There's a nice and new olive color option for the Niko which might be a better fit for style-conscious photogs!