Chrome Privacy Search Extension
Protect Your Browsing Data With Disconnect 2
In the wake of the NSA PRISM Internet surveillance scandal, and despite tech companies' protests that they knew nothing about the program, we're adding extra security to our Internet use. Disconnect 2 is an update to the popular Disconnect Chrome browser extension, created by a former Google engineer to keep personal data transmitted online private, and not tracked by the companies whose sites you visit.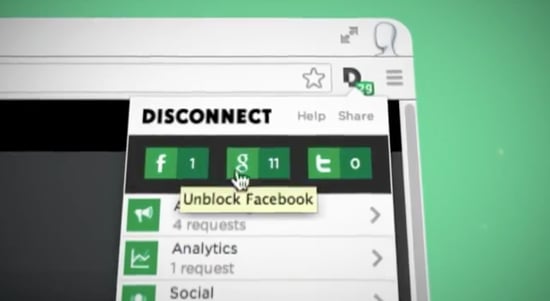 Currently available as extensions for Chrome and Firefox (the company is working on Safari and Opera versions), Disconnect 2 stops over 2,000 third-party sites from tracking the personal information you input online. Once downloaded, a toolbar on the browser gives a real-time view of the websites that would be grabbing information about your search habits or recent location check-ins were you not using the tool.
Not only does it block the transmission of browsing history, but also, Disconnect encrypts data you choose to share on sites, just in case it one day falls into the hands of a separate company or person. The software is pay-what-you-can, with the option to allot some of the money to Disconnect, and some to Internet nonprofits like ProPublica, Center For Democracy and Technology, Electronic Frontier Foundation, and the Tor Project. So you can help the digital good while protecting your digital life.