Chromecast
Google Chromecast Is Now HBO Go-Compatible
In late July, Sundar Pichai, SVP of Google Chrome, Android, and Google Apps, announced a "new device from Chrome to unify the Chrome experience across all devices." The Google executive is hoping to unify laptops, tablets, phones, and, now, TVs.
Chromecast is a small device that works with Android and iOS devices, no larger than a USB stick. It pulls content from your phone, tablet, or laptop and displays the media on your high-definition TV. Today, Google also delivered some good news for fans of Game of Thrones — it was announced that the Chromecast is now compatible with HBO Go.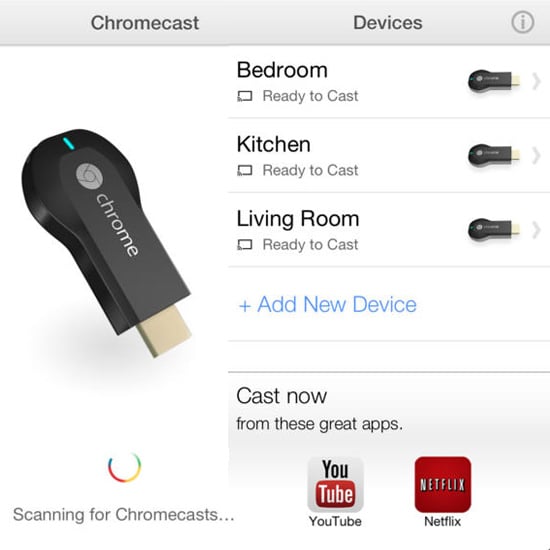 Chromecast is sold at Amazon, Best Buy, and the Google Play store for $35. But before opting to buy, you're probably wondering: how does Chromecast work?
Chromecast plugs directly into a TV's HDMI port.
Once Chromecast and your device are connected to the same WiFi network, your TV is ready to stream content.
A "cast" button will appear after opening the YouTube, Chrome, or Netflix apps on your device.
After pairing the device by pressing the "cast" button, you will be able to control video volume, play/pause, and add content to a "TV queue" from a laptop, tablet, or phone.
For now, Chromecasting is available for Google Play (music, movies, and TV shows), Netflix, and Chrome web browsing (beta only).
An important thing to note is that unlike Apple Airplay, Chromecast does not mirror the device's screen. Chromecast pulls YouTube and Google Play content from the cloud, which means that you can check your email or surf the web on your device and the TV display will be unaffected.
Chromecast essentially merges the best features of Apple's two big screen streaming options. Like Apple TV, Chromecast talks to your Google Play account so you can watch the movies, music, and TV shows you purchased on a large display. And like Airplay, Google's new device can wirelessly stream what's happening on your laptop, phone, or tablet (as long as it's in the Chrome web browser).
But Chromecast's most compelling feature is its ability to identify multiple devices — and give multiple users control of what's happening on the TV. For example, if one person is Chromecasting a Netflix show through their iPhone (say, House of Cards) and decides to leave the room, a second person can pick up their Android tablet and open the Netflix app, and Chromecast will recognize that there's a second device available. That second device will be able to control what's happening on TV while the primary device is away.
Chromecast originally came with three free months of Netflix (a $24 value), but the media streaming device was so popular at launch that only a limited amount of buyers received the Netflix deal. This week, Chromecast returned to Best Buy with the Netflix promotion — and sold out within hours.