Circa News App
Circa: A New Way to Read the News
Though there are a lot of ways to read the news on your iPhone, none are as optimized for mobile as Circa (free), the first app to provide a news experience built specifically for smartphones. The just-launched Circa turns long articles into a collection of points, like a CliffsNotes for daily news.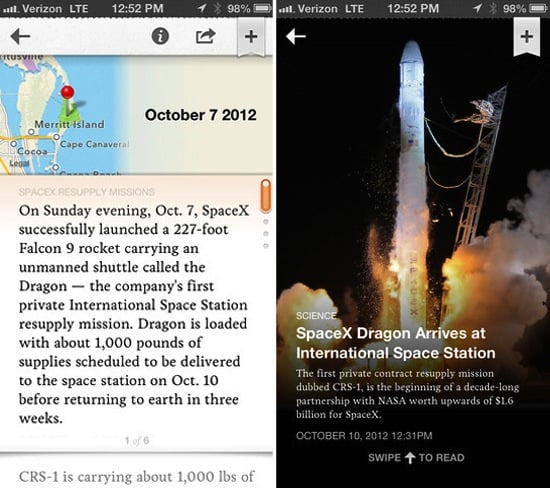 What sets Circa apart from other news apps is not only its elegant user interface, but the fact that the app is powered by real, human editors who choose the top stories every day. The editorial team breaks those stories down into flash cards that display short paragraphs, quotes, photos, and maps.
Clicking on the info button reveals the card's source, and tapping the share icon allows readers to send an individual point or an entire story via Twitter, Facebook, or email. Keep a long form story handy by adding it to your bookmarks, then the next time you log in Circa will only show you new points, so that you don't have to reread the entire story.