Cisco Valet Plus Wireless Router Review
Cisco Valet Plus: Easiest Router Setup Ever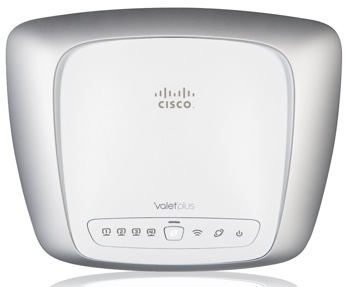 I never really had a problem with my Apple Airport router at home. It worked just fine, and since I live in a Mac household, I thought it would be the best option for seamless integration with the rest of my gadgets. But after getting the Valet Plus wireless router from Cisco, I don't think I'll ever go back. Not just because I've seen increased rage and fast wireless speeds, or that it was easy to connect all of my computers, gaming consoles, and printers, but the biggest plus: setup was incredibly simple.
Find out more, and why you'll love it after the break.
The Cisco Valet Plus is a home wireless router that connects your computers, TVs, and all other Internet-capable electronic devices. The box comes packed with the router, power cable, ethernet cable, and a setup system inside a thumb drive. As I mentioned above, setup is simple: just plug in your ethernet cable and power cord into the Valet Plus, plug in the set up thumb drive to your main computer, and follow the onscreen commands that take you through setting up your network passwords, even allowing you to create a guest network so your visitors don't get access to your important docs and private info. For $89, it's probably the easiest 10 minutes I've ever spent setting up a router (no calls to my Internet provider, no resets, no hassle), and would be a great gift for any tech-illiterate household. Seriously, even my grandpa could pull this off. Bonus: this router is an 802.11 g/n, which means you can get superfast download speeds on your iPhone 4 (which is optimized at Wireless-N), and still download books on your Kindle (using Wireless-G), without having to flip your network settings back and forth. What a time saver!
You can get a Cisco Valet Plus router for yourself now online for $89.