Citibank iPhone App Security Flaw
Citibank iPhone App Users: Update Now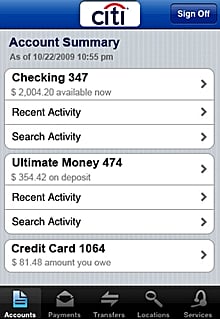 Attention Citibank iPhone app users: Citigroup announced that its iPhone app contains a security flaw that could store some user data and compromise account security. The information was saved to a hidden file within the app, and includes account numbers, bill payments, and security access codes. Additionally, if you synced your iPhone with your computer at all after using the app, this data may be stored on your computer as well. According to Citi, they don't believe the data was breached by anyone, but is urging users to update the app to the latest version, which corrects the problem.
To learn more, just keep reading.
The latest version, which was released on July 19, not only fixes the flaw, but deletes any personal information that was accidentally stored. The only app affected was the banking application, which allows customers to access account balances, transfer funds, and pay bills, not the credit card app or any other Citi products.