Class-Scheduling App
Timetable: The Essential Class-Scheduling App For Android
With alternating classes and schedules switching up every quarter, keeping tabs on your course schedule can get really complicated. Android students, listen up: Timetable (free) is an organizational tool for all of your scheduling needs. Not only will it keep all of your classes in order — it'll make sure you meet your deadlines for projects and exams, too.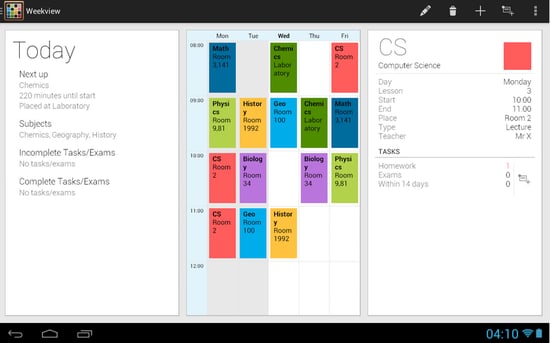 Input your schedule details at the start of the semester — course, professor, room number, time, type (lecture, lab, or discussion) —and Timetable will compile your schedule, then assign a color to each class. View the schedule as a list or grid, and tap on an individual course to reveal more details, like due dates for upcoming papers. Like any digital calendar, Timetable is fully searchable, and the color of the interface can be changed to light or dark.
Timetable's most noteworthy feature is its ability to automatically mute the device during class time. You don't want to be caught red-handed checking your phone during lecture!
The app is clean, minimal, and, perhaps, the most elegant interface we've seen in an Android app. Give Timetable a try, and let us know: how do you keep your classes and tasks organized?