CodeOrgan Turns Any Website Into Music
Website of the Day: CodeOrgan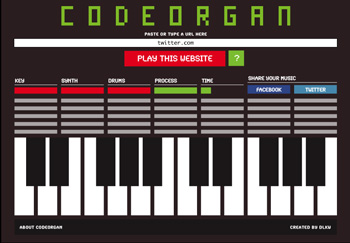 This site is great for totally geeky musical entertainment. Type any URL into CodeOrgan, and the site will use an algorithm to compose music based on the website's code. It first scans the text on the page and removes all of the letters that aren't musical notes (so, letters that aren't A-G). It then scans for the most popular "note," turning the song into either major or minor key. Then, it uses the total number of letters on the page to determine which synthesizer tone to use, and finally creates a drum beat based on the ratio of "note" letters to non-note letters.
In other words, it's a very complicated way of saying: CodeOrgan shows off an extremely geeky way to make music! Check it out, and if you find any especially musical sites, let me know!
Do you have an interesting website you want to share? Create a PopSugar Account or log in to your account. Then join the Website of the Day group where you can post your favorite website! And you never know, it could be featured on GeekSugar! Here's a detailed guide to posting questions or posts to groups if you are new to the PopSugar Community.