Color Photo Sharing App For iPhone and Android
Download of the Day: Color For iPhone and Android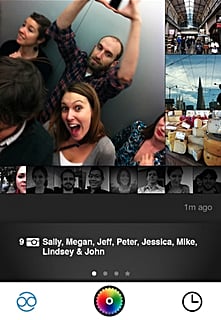 Photos have been going social since the early days of Friendster (remember Friendster?), and now a new mobile app is taking social photography to another new high. Color, available for iPhone and Android, allows users to create group photo albums, open to everyone to share. Users can take and share photos simultaneously to create a well-rounded view of any event or experience. Built-in text messaging capability keeps users connected.
There's no friending or following necessary like there is for other photo-sharing apps; connections are determined based on who you're with at the moment. Photos are shared with everyone in your vicinity, some even compare it to Twitter for photographs. Or, if you're in a crowded space, the app will create a subgroup containing you and the people you're with.
Download Color for free from the iTunes App Store or Android Market.
The iOS app runs on the iPhone, iPod Touch, and iPad (using iOS 4.0 and above).