Colorware iPad Grip
Meet Colorware's First Physical Product: The Grip For iPad
Colorware, known for expertly transforming computers and other gadgets into colorful creations, announced its first standalone product. The Grip For iPad is an iPad case doubling as an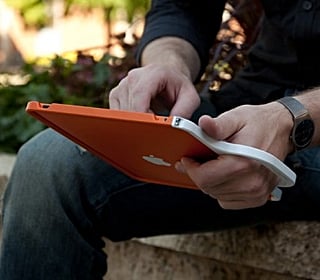 easy-to-carry handle. The case comes in three versions: for a Colorware-painted Gloss iPad, for a Colorware-painted Softtouch iPad, and a non-Colorwared iPad.
The handles are made in Minnesota from aluminum, and you can customize the design of your Grip with all of Colorware's colorful options, and when paired with a Colorware-painted iPad, the result really is beautiful. Unfortunately, the Grip comes with a similar pricetag as a Colorware paint job; one Grip costs $300 and apparently does little to protect the device.
Check out the full promotional video after the break.