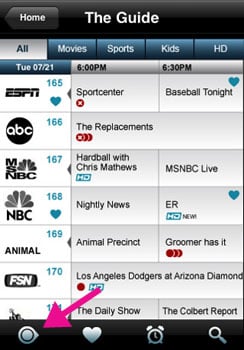 I'm not sure if I'm supposed to be calling Comcast "Xfinity" yet, but I guess that's not important right now — Comcast (or Xfinity, geez) announced yesterday that its newest update to the Comcast Mobile App (free) for your iPhone will include a remote DVR controller to record, edit, or cancel recordings on the go.
Known as myDVR Manager, the app is available in select markets currently, but will be rolling out to all customers soon. You'll know you have access by the new eye icon on your app toolbar at the bottom. It seems as if Comcast is finally catching up to the other apps that help you stay in control.
There are a few more updates to this version of the app. Find out what they are when you
.
Besides controlling your DVR, other features in the update include push voicemail notifications (which send you an alert whenever you get a voicemail on your home phone), as well as TV notifications, which send you an alert 15 minutes before your favorite shows begin.