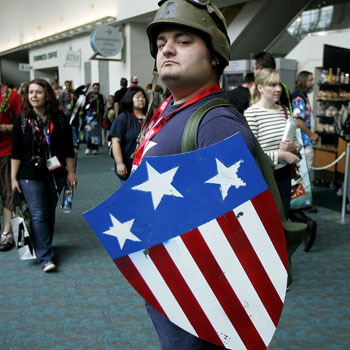 2011 Comic-Con is in full swing! If you're struggling with which panels to see and which to skip, we've got a rundown on some of the most interesting, engaging, and highly anticipated panels and discussions right here. Check our our must-see list for Friday, then tell us what you're most excited to see at the convention in the comments below!
The Captains, 10:15 a.m. — 11:15 a.m. — Start your Friday off right with a dose of William Shatner as he presents an exclusive preview to his new documentary, in which he travels the globe to interview all actors who have played Starfleet captains on screens big and small. Plus, it's moderated by Kevin Smith. Location: Room 6BCF
The Walking Dead, 11:15 a.m. — 12:15 p.m. — The cast of the hit AMC show take the stage to talk about what's next for the show's survivors in season two airing this Fall. Also joining them is the executive producers and makeup artist, which could give you some interesting insights to how the show all comes together. Location: Ballroom 20
Raven, 12:15 p.m. — 1:15 p.m. — Literary fans can get a sneak preview of Raven, a thriller in which Edgar Allen Poe joins forces with a detective to hunt down a serial killer, during this presentation. Stars include John Cusack and Luke Evans. Location: Hall H
Legendary Pictures: Preproduction Preview, 12:45 p.m. — 1:45 p.m. — Stars cram the stage during this panel, which shows off some upcoming films on the studios production slate, including Pacific Rim, Seventh Son, Paradise Lost, and Mass Effect. Stars on hand to discuss the films and introduce sneak peeks include Jeff Bridges, Bradley Cooper, and Guillermo del Toro. Location: Room 6BCF
3D Comics Panel, 1 p.m. — 2p.m. — Get a free pair of 3D glasses during this 3D presentation of the history of 3D comics — from invention in 1953 and beyond. 3D enthusiasts, mark your calendars! Location: Room 4
Underworld: The Awakening and Attack the Block, 1:30 p.m — 2:30 p.m. — Kate Beckinsale, Len Wiseman, and Michael Ealy take the stage during this panel to discuss the film franchise's leap to 3D filming, and take Q&A from the audience. Partnering up with Underworld is Attack the Block, a film about a group of inner city kids battling aliens from outer space. It's not your typical alien invasion story, since these kids actually fight back! Location: Hall H
Writing Seminar With Marv Wolfman and Neo Edmund, 2 p.m — 3 p.m. — You're going to Comic-Con because you love story, right? So if you're an aspiring comic or screenwriter yourself, this back-to-basics session will help you master the building blocks of story — from learning the "three-act structure" to character development and creating tension. A Q&A portion with panelists Marv Wolfman (God of War) and Neo Edmund (Windy Hollows Solitary) will also be included. Location: Room 30CDE
See the rest of our must-see list from day two after the break!
Eureka, 3 p.m. — 4 p.m. — One of our favorite geek gals, Felicia Day, will be in attendance with costars, along with moderator Wil Wheaton to chat about the popular SyFy series. How can you miss it? Location: Ballroom 20
Total Recall and The Amazing Spider-Man, 4 p.m. — 6:30 p.m. — Stars of the upcoming films make appearances during this panel that will give sneak previews (no cameras, please!), inside scoops, and behind-the-scenes info from both films. An audience Q&A will be included, so get your questions for Colin Farrell, Kate Beckinsale, Jessica Biel, Bryan Cranston, John Cho, Andrew Garfield, and Emma Stone ready! This panel will also be presented with Ghost Rider — Spirit of Vengence and 30 Minutes or Less! Location: Hall H
True Blood, 5:30 p.m. to 6:30 p.m. — Get your sexy fix during this panel that features all the major stars of the series: Anna Paquin, Stephen Moyer, Ryan Kwanten, Sam Trammell, Rutina Wesley, Nelsan Ellis, Deborah Ann Woll, Joe Manganiello, and more. Location: Ballroom 20
Girls Gone Genre, 6 p.m. — 7 p.m. — Girl geeks will feel empowered after sitting in on this session, moderated by Jenna Busch, which features some of the most awesome gals who write, read, game, and perform in male-dominated genres. Location: Room 25ABC
Teching Out With NCIS: LA, 7 p.m. — 8 p.m. — Join NCIS: LA cast member LL Cool J and executive producer Shane Brennan as they chat about the technology used on the show, how they've incorporated tech and social media into their own lives, and what's up next for season three. Location: 6BCF
The Science of Zombies: How Possible Is a Zombie Virus, 7:30 p.m. — 8:30 p.m. — Continuing your education on zombies, this panel will feature top creative talent behind the upcoming game Dead Island and a real-life medical professional to discuss how likely a virus-spawned zombie invasion really is.