Comic-Con Thursday Schedule
Thursday Comic-Con Must Sees
Hooray, it's the return of Comic-Con and all the madness that accompanies it! As usual, the show's schedule of events is packed this July 21-24, so we'll attempt to highlight the most exciting must sees. The convention starts with a huge bang on Thursday with the Twilight panel, though there are plenty of other events to add to the Comic-Con itinerary.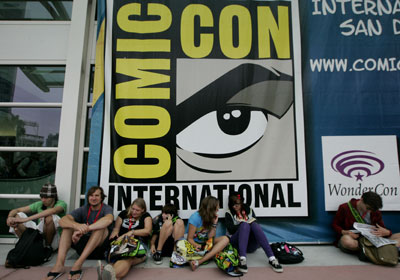 Twilight: Breaking Dawn, 11:15 a.m.-12:15 p.m. — Hope you've already been camping out for this one, because fans began lining up days in advance. Expect new footage from the next Twilight film and a cast Q&A. Location: Hall H 
Kinect Star Wars panel, 10-11 a.m. — First announced at E3, Kinect studio head Jorg Neumann and LucasArts lead producer Craig Derrick will share fresh news on the game, including a mystery announcement. All attendees will receive a limited-edition poster! Location: Room 32AB
Stan Lee, Yoshiki, and Todd McFarlane, 1-2 p.m. — Comic fans unite for the Q&A session with legends Stan Lee and Todd McFarlane, who are creating a new character, Blood Red Dragon, with rockstar Yoshiki. Location: Indigo Ballroom, Hilton San Diego Bayfront
Warner Premiere: H+ and Mortal Kombat: Legacy, 2-3 p.m. — A Comic-Con exclusive first look at H+, the new web series from X-Men producer Bryan Singer. The web series Mortal Kombat: Legacy will take the stage next for a panel discussion with the director, Jeri Ryan, Michael Jai White, and others. Attendees will see the final Mortal Kombat: Legacy episode. Location: Indigo Ballroom, Hilton San Diego Bayfront
Game of Thrones panel, 3-4 p.m. — If addicted to both the books and TV series, this is one not to miss. In attendance are cast members Emilia Clarke, Nikolaj Coster-Waldau, Peter Dinklage, Kit Harington, and Jason Momoa, as well as the show's executive producer and writer, George R. R. Martin. Location: Ballroom 20.
Beavis & Butthead, 5-6 p.m. — 2011: the return of the original bad boys of animation. Creator Mike Judge is on hand to offer a sneak peek on MTV's new episodes. Location: Room 6A
Batman: Arkham City, 5-6 p.m. — A preview of the gaming follow-up to 2009's fan favorite Batman Arkham Asylum. Location: Indigo Ballroom, Hilton San Diego Bayfront
Entertainment Weekly: The Visionaries: A discussion with Jon Favreau and Guillermo del Toro on the Future of Pop Culture, 6-7 p.m. — Cult favorite directors Jon Favreau and Guillermo del Toro discuss bringing geek life to the mainstream entertainment industry. They'll discuss their inspiration, current film work, and how technology is changing cinematic storytelling. Location: Hall H
Her Universe: What Women Want in Their Female Sci-Fi Heroes, 6-7 p.m. — Gone are the days of the "damsel in distress" sci-fi character (we hope). If you can't get into Hall H, check out the panelists with a background on Star Wars, Smallville, DC Comics, Universal Cable Productions, and Lost discuss the future of strong female characters in the genre. Location: Room 25ABC
History of the Modern Zombie, 7-8 p.m. — Beginning with the classic horror film Night of the Living Dead, zombies have become a large part of modern pop culture. Panelists including the author of Zombie Survival Guide, a UC Berkeley professor, and a Harvard Medical School psychiatrist will discuss the history of zombies in entertainment and why we're so interested in them. Consider it the most fun college lecture you'll ever attend. Location: Room 7AB
What's on your must-see Comic-Con schedule? Which panels and events are you looking forward to most?