Computer Engineer Barbie Debuts at NYC Toy Fair
Barbie's New Career: Computer Engineer!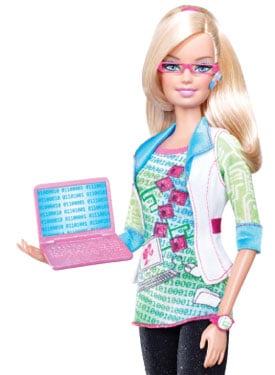 I put out a call via Twitter and Facebook last month for you guys to vote for "Computer Engineer" as Barbie's new career — and you totally did! Announced today, the newest additions to the Barbie family will include two professions: computer engineer (which won by popular vote — way to go geeks!) and news anchor (took the top vote among girls).
Not only will Computer Engineer Barbie be attached to her shiny pink laptop and Bluetooth earpiece, but Mattel worked closely with the Society of Women Engineers to ensure that Barbie's fashions were as geek chic as possible. She sports a binary tee, black skinny pants, retro-styled glasses, and totes a smartphone along with her other essentials. Although I may disagree a bit with the color scheme, I can't complain — there's finally a geeky Barbie for girls to relate to! Computer engineer Barbie (along with her sidekick, News Anchor Barbie) were unveiled this morning at the NY Toy Fair, and will be hitting shelves this Fall.