Conan O'Brien Live on YouTube
Conan Goes Live on YouTube For 24 Hours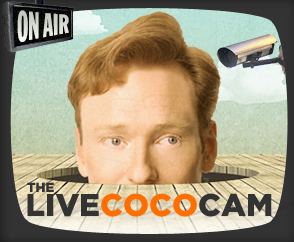 Last month, Conan O'Brien tapped social media by answering questions posted on his Facebook page by fans. Now, in an effort to promote his new show, which debuts on Nov. 8, he's broadcasting live for 24 hours on YouTube. The live feed started today at 1 p.m. EST and will last through 1 p.m. EST tomorrow.
The live Coco Cam is broadcast on the Team Coco YouTube page and so far features a mix of writers and staff with, presumably, appearances by the man himself. Viewers are also encouraged to interact with the team via Twitter, using the #LiveCocoCam hashtag.
There's not much I'm interested in viewing for 24 hours straight (except maybe A Christmas Story on Christmas Eve, are you with me?), but Conan and his writers, with their hilarious antics and comedy, certainly make for an entertaining watch. Have you checked it out yet? What are you waiting for?