Couples Going Social Network-Free
Tech Dating 101: Could You Go Social Network-Free?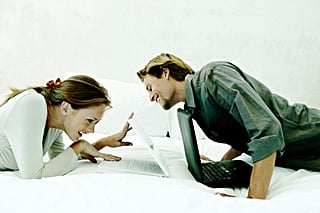 Clearly, technology can present some serious hurdles to a healthy dating life, from overzealous Facebook wall-posting to mixed messages caused by social networking. This edition of Tech Dating 101 focuses on social networking; namely, could you and your honey ever go completely social network-free?
I'm not talking about giving the sites up all together (could you imagine?), but I am talking about staying out of each other's digital lives. That means saying no to Facebook friendships, not following each other on Twitter, not sharing your location with your significant other via Foursquare — nothing. Though it may sound extreme at first, keeping personal digital details personal, at least in the early stages of a relationship, may actually help. To hear why I think so, keep reading.
This idea comes from a close friend who, upon meeting a guy she clicked instantly with, friended him on all of the usual social networks even before their first date. While they dated for several months, she was constantly obsessing over his Facebook status updates, and would literally get giddy any time he tweeted at her or mentioned her Twitter handle in any of his tweets. You can imagine, then, what happened when she started checking up on his location via Foursquare; the relationship moved way too fast, and both of them got freaked out. Now, they've agreed to go completely social network-free to avoid any unneeded anxiety or stress caused by social networking.
I admire my friend's stance and actually think this is an awesome, healthy start (or in this case, restart) to a successful relationship. But it seems kind of tough, too. What do you think? Is it unnecessarily paranoid to keep a new beau at keyboard's length, or is she making a good move?