Stop everything because PlayStation turns 20 today. If you're a gaming fan, you know how important this is, and you were probably just as excited when the PlayStation 4 came out last year. As proof that PlayStation can make sane people do crazy ridiculous things, we've proudly present 9 folks who just can't control their fandom. Get ready for some amazingness.
The Guy Who Started His Day With PS4 Pancakes
My wife made me some #PS4 pancakes for Launch Day! @yosp @GameOverGreggy pic.twitter.com/eNUtT3xB2K

— Cody Anderson (@aznboy1der) November 15, 2013
The Woman Who Ruined Painted Her Baby Bump With PS4 Control Signs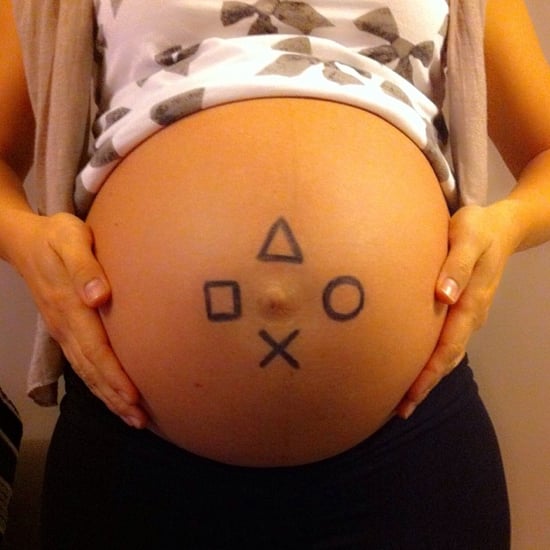 More PS4 fanatics this way!
Dallas Cowboys Receiver Dez Bryant Who Walked Into Walmart and Bought Everyone in Line a PS4
Respect @DezBryant !! But we don't hear about positive stories like this about him or other media proclaimed "divas" pic.twitter.com/U5vCtU2QQ4

— Brandon (@bc4_bc) November 15, 2013
Joey, the First Person to Buy the PS4, Who Made Fans Everywhere Crazy Jealous
First #PS4 in the world just went to this dude, Joey! Stay warm in line tonight, you crazy console kids! pic.twitter.com/oF1iR3WZAG

— POPSUGAR Tech (@POPSUGARTech) November 15, 2013
The Guy Who Got Sucked Into a PS4 Black Hole With Monster Drinks and Tacos
Almost go time! Just waiting on ups. #ps4 pic.twitter.com/Ro3RzXN2p3

— mike ernst (@MERNST313) November 15, 2013
The Guy Who Literally Licked His PS4 Box
It's mine!!! #ps4 #GreatnessAwaits @Naughty_Dog @PlayStation pic.twitter.com/WTt2Cmy6DN

— Keith (@KeithGuerrette) November 15, 2013
The Kids Who Had a Jug of Water Delivered to Them While They Waited For the Midnight Launch
The Guy Who Made His Own "Reserved" Sign For His PS4
The Guy Who Put a Seatbelt Around His PS4 and Talked to It, Saying, "Just Hold on, We're Goin' Home"