Create Funny Status Updates With Generatus
Can't Think of a Status Update? Let Generatus Create One
Filed under "completely useless but pretty funny," Generatus is a site dedicated to providing you a Facebook, Twitter, or other social networking status message when you just can't manage to think of one on your own. It bills itself as, "Ideal for the imaginatively challenged," the site pulls funny updates from a variety of tags and trendy items, from popular movie to popular news items.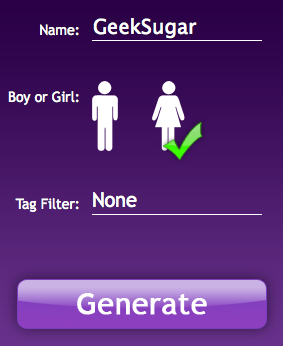 To use the site, just type in your name, select your gender, add any tags or keywords (you know, if you have a general idea of what you'd like your update to say), and click, "Generate." The site will then spit out a sometimes hilarious, sometimes nonsensical status update. My personal favorite so far: Geeksugar is making one simple request. And that is to have sharks with frickin' laser beams attached to their heads! (Doesn't hurt that that is also one of my favorite movie quotes of all time.)
You can also choose an update based on a theme from the site's tag cloud, including popular terms like, "movies" and, "work." While I can't guarantee I'd ever actually use one of these as my actual status messages, playing around with the site is pretty funny. Give it a try, and post your funny updates below!