Create a Simple, Clean To-Do List With Doris
Geek Tip: Get Things Done With Doris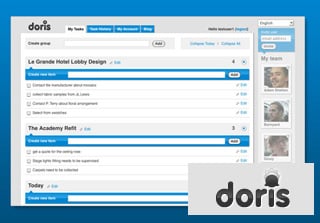 There's no shortage of apps and programs to help you stay organized, from apps that aid in to-do list creation to timer programs to help you stay on task. My latest find: Doris, a clean and simple "productivity tool" that organizes to-dos, deadlines, appointments, and priorities.
You can create categories like "long-term projects" or "tomorrow" to organize your to-dos into sub-categories, and drag items up or down in each list to prioritize. Then, check and cross off items from your list as you complete them. The best part: you can access your list history including the exact time you checked each item off the to-do list, which is great for looking over a week's work. And, because the application is so simply designed, you can use it for anything from keeping a list of New Year's resolutions to making sure you don't leave anything off your grocery list.
There's also a free iPhone app that will sync with your online list, so you can keep your to-dos with you — and check them off as "done" — wherever you go.