Custom-Made Star Trek Wetsuit
Star Trek Wetsuits: Totally Geeky or Geek Chic?
Attention, geeky surfers! While I can't look at these wetsuits without cracking a smile, they're perfect for the die-hard Trekkie with a passion for waves. The Star Trek: The Original Series Wetsuit ($430) is a one-piece full suit made to look like the original uniforms from Star Trek.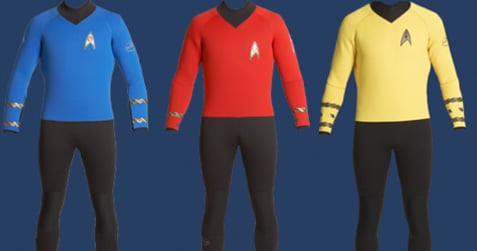 Each wetsuit is custom-made, tailored exactly to your measurements, and available in three colors: Command Yellow, Science Blue, and Engineering Red. Since the suits are custom-made, they take about six weeks for delivery.
On one hand, these seem pretty geeky — on the other, they're kind of amazing. Surf, and fulfill your childhood dreams of commanding a star fleet at the same time! What do you think?