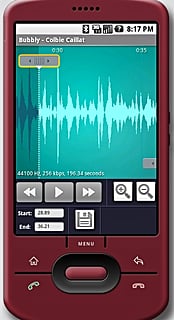 One of the first things I do upon receiving or purchasing a new cell phone is check out the ringtones offered. And while one or two are usually acceptable (think: the two iPhone rings that every single person uses), 'tis better to customize than to conform to a preset tone. If you have an Android phone, there's an easy way to customize your own ring through an easy-to-use app. Ringdroid, which is free, allows you to create ringtones, notification tones, and alarm tones from any audio file.
See how it works after the break.
Once you upload your audio file, you'll see a waveform representation of the audio, which will easily allow you to set start and end points for the tone. Then, save the clip and mark it as "ringtone," "alarm," or "notification." You can even record your own tones or audio for use and use the app to assign a ringtone directly to any contact.
Have you found a cool download-worthy treasure you'd like to share with the rest of us? Create a PopSugar account or log in to your account. Then join the Download of the Day group, where you can submit your favorite downloads and widgets. And you never know, it could be featured on GeekSugar! Here's a detailed guide to posting questions or posts to groups if you are new to the PopSugar Community.