Looking for a Halloween craft that won't make your arms sore from carving? The perfect solution is close by. Printers are a great starting point for easy, low-maintenance projects, and Mr Printables is a site with a lot of free, printable designs that are a right click away from becoming your next DIY. Chances are, it'll become your new go-to website for parties and crafts.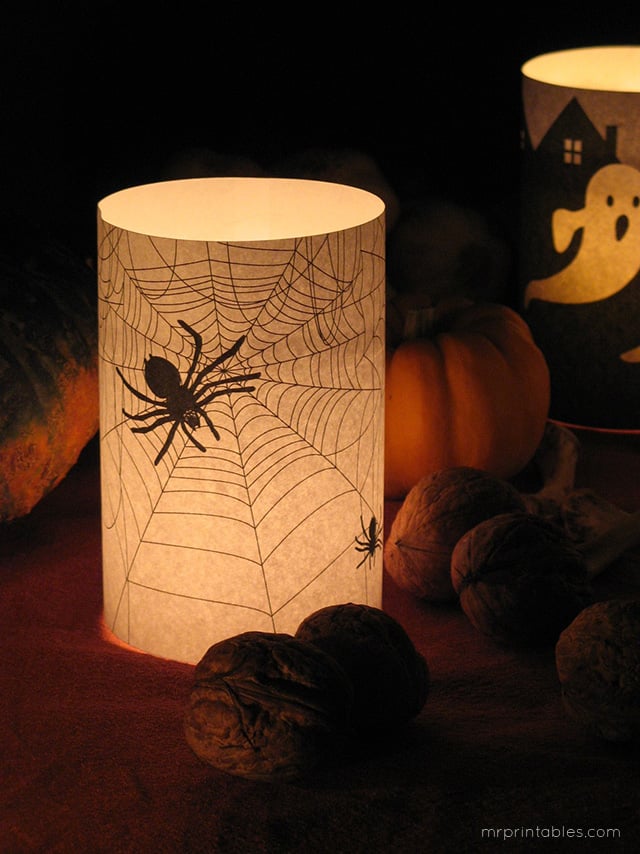 Mr Printables's tagline is "for intelligent and happy kids," but there are plenty of offerings for grown-up geeks, too, like the Spooky Candle Holder shown above. Our second favorite, the Geometric Ghost Treat Boxes below, would make a perfect addition to our Pac-Man Halloween Party!
Each project includes a download link for a letter-sized design or large-format A4 design. Right click on the link, and select "Print" to start right away or "Save As" to keep on your desktop for later. Each digital download is created by Olive, who founded Mr Printables, and free to print as long as the designs are appropriated for personal or classroom use.
Don't feel limited to white copy paper! As you can see, vellum, wax, and colored varieties work fine — just make sure your inkjet or laser printer is equipped to handle different types of paper. When printing the designs on any alternative papers, load each sheet one at a time to prevent a jam.
Have you spotted any adorable printables on Pinterest or Etsy? Share them with us in the comments! Feeling ambitious? Try one of our many sci-fi and geeky pumpkin templates!