DJ Hero 2 News and Extras
DJ Hero 2 Mixes It Up With DJ Battles, Vocals, and Party Modes
You guys were pretty psyched about the first DJ Hero, and with DJ Hero 2, there's even more reasons to get excited.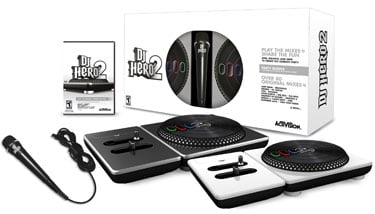 Available today, DJ Hero 2 allows you to mix some of music's hottest tracks (Lady Gaga, anyone?), but you can also battle it out with another DJ, add vocals with a mic, and have pals hop in and out of gameplay in the party mode. The DJ Hero 2 Party Pack ($150) includes everything you need to get started — two turntables, a mic, and the game, so you can get your friends involved from minute one. Going solo for a while? There's the Turntable Bundle ($100) that includes the game and one turntable, or just the game ($60) if you already have the hardware.
To sweeten the deal, Amazon, Walmart, and Best Buy are tossing in some extras with a purchase. Find out what they are after the break.
Celebrating the DJ Hero 2 launch, Best Buy, Walmart, and Amazon are offering these special deals for a limited time:
Pick up the game from Amazon between Oct. 19 and Oct. 23 and get a free copy of Linkin Park's new album, A Thousand Suns.
Purchase a Party Bundle or Turntable Bundle from Best Buy and get a free hard-shell carrying case that converts into a game-ready DJ stand.
Specially marked Wii or Xbox 360 Party or Turntable Bundles at Walmart will also come with a copy of the original DJ Hero to boost your gameplay mixes.
DJ Hero 2 is available now in stores and online for the PlayStation 3, Xbox 360, and Wii systems.