Darth Vader Alarm Clock
Darth Vader Alarm Clock: Totally Geeky or Geek Chic?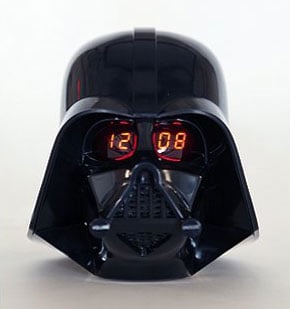 You can cover your feet with some cool Star Wars Adidas Originals shoes and wear a tattoo'd tee to commemorate your favorite Star Wars villain, but why stop there? You might as well bring the supreme commander into your bedroom with this bedside Darth Vader Alarm Clock ($42) . . . unless you're scared, of course. Not only does Darth wake you when it's time to rise (with either the AM/FM radio, or three pre-recorded sound bites), but he also plays your tunes with his auxiliary input jack. Not a bad job at multitasking for a dark galactic enforcer, I'd say.