Dear Photograph
Website of the Day: Dear Photograph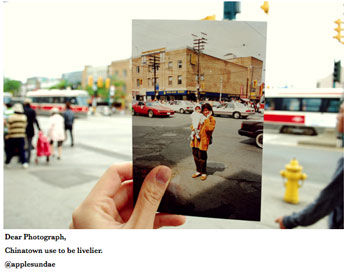 Ever wonder what your childhood front porch, the site of yearly first-day-of-school photo shoots, looks like now? Dear Photograph, a website asking readers to "take a picture of a picture from the past in the present," recalls the memories we hold without veering into the overly sentimental. Each submission shows an old physical photo placed within the exact modern day location of the past photo. The concept may be simple, but the photos are moving, conjuring ghosts of past experiences and loved ones. With a hint of PostSecret, Dear Photograph's posts also include a brief tribute to the people, place, or dinosaur shorts of the past.
Not even a month old, the site has already garnered a large following, with over 6,000 Facebook fans and 10,000 Tumblr followers submitting views of their weathered photos in the present locale. We're scouting for submission possibilities ourselves.
Do you have an interesting website you want to share? Join the Website of the Day group and blog it for a chance to be featured on GeekSugar.