Declaration App in iTunes Store
Manhattan Declaration iPhone App: Freedom of Speech or Going Too Far?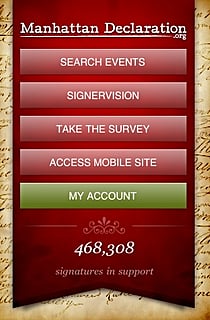 A recently approved app available in the iTunes Store has many people up in arms, saying that the Manhattan Declaration app is antigay. The app, whose founders tout it as a "call of Christian conscience," asks users to sign a nearly 5,000-word declaration written by Christian clergy and scholars. It "speaks in defense of the sanctity of life, traditional marriage, and religious liberty," and "issues a clarion call to Christians to adhere firmly to their convictions in these three areas." It then allows users to add their digital signatures to the declaration.
App users can also choose to answer four "opinion" questions on topics like abortion and same-sex relationships, but upon choosing the undesired "opinion" option, are told they answered incorrectly.
Given Apple's strict approval policies, I'm surprised that this one made it through. Though on the other hand, it could be considered free speech; obviously there is a market for this type of app in the marketplace. What do you think?