Dell Aero Android Phone For AT&T
Dell Releases the Aero, Its First US Android Phone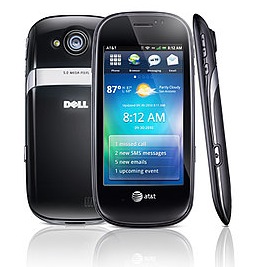 Dell has just released its first US smartphone, following last year's Mini 3 release in China. Dubbed the Dell Aero, this Android-run smartphone will be available exclusively through AT&T. The device features a 3.5-inch display with virtual keyboard, 5MP camera with 8x zoom, comes stocked with a 2GB MicroSD card, and the ability to support MicroSD cards up to 32GB.
Find out more about the Aero, including pricing and availability, when you read more.
The phone's browser is Flash Lite-enabled, allowing you to view pages in Flash, which is an obvious perk over the Flash-less iPhone. The Aero also supports Bluetooth connections and has a built-in GPS.
Interested? The Aero will cost you $100 with a two-year contract or $300 without. It's currently available via Dell's website and will hit AT&T stores soon.