Details About Facebook's New Privacy Controls
Facebook's Privacy Changes, Explained
In a press conference held today, founder Mark Zuckerberg explained the latest crop of privacy changes to hit Facebook, aimed to "make privacy simpler." While he's quick to say that the detailed, granular privacy controls won't be going away, Facebook will make the controls feel less complicated to users. On the new privacy screen, you're able to view a visualization "recommended" settings under the headings "friends," "friends of friends," and "everyone."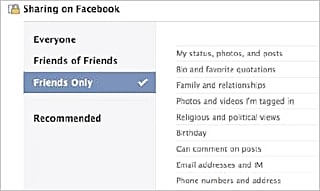 The screen provides one-click access to change all of your settings to fall into one of these categories, or to customize each setting individually.
There is also a category called "Basic Directory Information," which, with its own privacy control, lists basic information like hometown, current location, and your contact information. Since most of this information helps friends find you, users are encouraged to include this information. It's a much simpler-looking version of the current screen but hasn't lost any functionality.
But that's not all — find out what's new after the break.
New to privacy is the ability for users to block all third-party apps from accessing any of their information. Once you opt to block all third-party apps, Facebook takes you through a series of prompts showing you each app that does access your information, confirming that you do, in fact, want to turn it off.
Facebook has updated its blog with a post describing all of these changes in further detail.