Details on Google Buzz, Google Announcement
Google Introduces Google Buzz to the World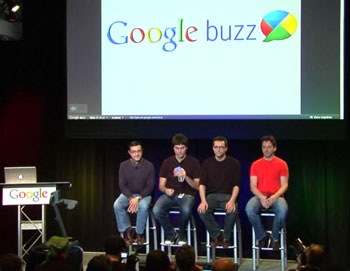 During a press conference held today in Mountain View, CA, Google announced its latest innovation: Google Buzz. Google Buzz allows you to share and communicate inside Gmail like a social network. Taking on other social networks like Facebook and Twitter, Google Buzz and your Google Profile can bring you content from people you email and chat with most, as well as from people worldwide. Google Buzz has a few key features:


Auto-following: Buzz automatically follows the people you email and chat with the most.
Rich, fast sharing experience: Media, videos, photos, and links to websites are brought to you quickly. Kinda looks like Google Reader. A custom photo viewer shows you pics in a large window, and you can easily switch back and forth between your viewer and social stream. Sending links allows you to grab headlines and photos before sending. Also, keyboard shortcuts in Gmail also work in Buzz.
Public and private sharing: Publish your thoughts to the world (sharing via your Google Profile and indexed in Google Search) or share just between family, friends, and custom groups.
Inbox integration: Bringing social updates to your inbox — any "shared item" can become a conversation. Comments appear on your items in real time. Also integrates @ replies for items.
Good stuff: Buzz sends you recommended items and learns over time what you like (by "liking" or "unliking" items) so you can get great content from people you don't know. Google ranks posts based on what's most interesting to you but also by your location.
To find out more about Google Buzz, and some other announcements and enhancements, just
.


You can add content to Google Buzz on your iPhone or Android with a new web app that allows you to add geo-tagged posts and post via voice to Place pages. Point your mobile browser to buzz.google.com or click the Buzz link in Gmail.
New Google Maps: Layers allow you to post to Buzz while in Google Maps and easily geo-tag your posts with your most visited places.
Security features: You can block followers and share privately, using security controls to your advantage.
Connectivity: Google Buzz can connect to Flickr, Picasa, Twitter, and Blogger so your posts and photos can be easily integrated to Buzz.
Google Buzz will be rolling out over the next few days, so be sure to keep checking your Gmail for the new feature!