Details on Microsoft's New Hotmail Email Features
New Hotmail Keeps Things Neat, Tidy, and Efficient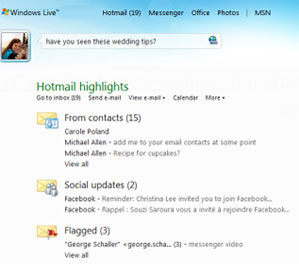 A messy inbox can lead to big-time stress, especially when you're short on time and can't wade through every unread. Although there are plenty of ways to keep your email's inbox in check on your own, Microsoft is picking up some of the slack for you with its updated version of Hotmail, making things easier than ever to work directly from your inbox.
Hot on the heels of the revamped Microsoft Office, Hotmail is also undergoing a transformation of sorts, using some of the same features. Notably, the new Hotmail allows you to work in Excel, PowerPoint, and Word right from your inbox without having the programs installed on your computer, thanks to Microsoft's Office web apps (which work similarly to Google Docs). Another helpful feature is "Sweep," which allows you to focus on emails that are most important — messages from contacts and social networks — while the other clutter (newsletters, offers, and the like) can be automatically swept aside into a dedicated folder, keeping you from getting distracted and suffering from a frustrating case of inbox meltdown.
Send a lot of photos and video? Learn about what Hotmail lets you do with your favorite pics and see a demo of the new system after the break.
Hotmail now allows you to view all of your sent and received photos right from your inbox in a sleek gallery or slideshow. Upload up to 200 files (of up to 50MB each) to Hotmail's Skydrive (a cloud-based storage system), and keep them there until your contacts decide to download. Plus, you can view videos your friends have sent without ever leaving your inbox!
Want to see more? Check out the demo video below!