The Details on Motorola's Motoblur
So What's Up With Motorola's Motoblur?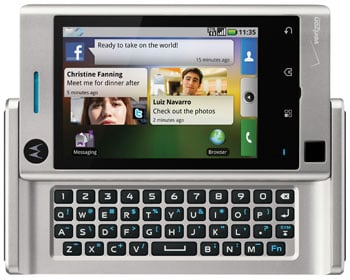 Just yesterday, Motorola introduced the DEVOUR (yes, in all caps) to the cell-toting masses. It's the first phone to be released running the unique Android-powered Motoblur technology. What's Motoblur, you ask? Well, Motoblur syncs and feeds your personal and work emails, texts, Facebook, Myspace, and Twitter updates from you and those you follow to your phone's home screen without having to log into different accounts, or open up any webpages or apps. It's all right there on the main screen. This makes things super easy when you want to quickly check up on what's going on out there in your networks with just a few taps.
The Devour itself is like a mini-Droid, coming with a slide-out keyboard, touchscreen, a 3MP camera with cropping, rotating and geo-tagging capabilities, 3G, WiFi, and Bluetooth connectivity, as well as music and video players. If you want to get your hands on one you'll have to wait — the Devour will hit shelves in March.