Details on the Nook Feature Enhancements With Update v1.3
The Nook Gets Updated With New Features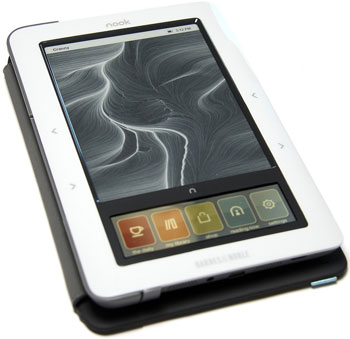 Lots of Nook news this month — not only have Nook sales expanded past Barnes & Noble's walls, but there's also speculation about two new models hitting shelves this year! But if you were an early adopter to the ereader — it was your favorite ereader of 2009, anyway — there's a new over-the-air update that will enhance your Nook and add some new features to the lineup.
First up is WiFi — you always had access to WiFi hotspots at Barnes & Noble stores, but now the hotspots and WiFi access have expanded to Starbucks, hotels, and anywhere you can log in for free. In addition to more WiFi access, you can hop on Barnes & Noble's network in any store and with the new "Read in Store" feature can scan thousands of digital books for free for up to an hour a day. No squatters, please.
Learn about the other updates and additions after the break.


Web browsing — The Nook now includes a basic (beta) web browser so you can hop on the Internet wherever you have WiFi access. Only downside — no Java or Flash support.
Games — Play Sudoku or chess on the go.
Faster access to music — A new music icon gives you quicker access to your tunes.
The Daily — This new addition gives you daily updates on new releases, bestsellers, deals, and alerts for free ebooks.
Enhanced performance — This update will include enhancements like faster page turning and ebook opening.
Want your update now? If you aren't connected to WiFi, you can download it manually on your computer here, and find step-by-step instructions on how to install into your Nook!
Source: Flickr user AMagill