Diacarta Calendar App
Download of the Day: Diacarta
I'm more of a visual person, so when I came across this productivity and planning app, I just had to dive in. Called Diacarta ($2), it's an iPhone app that works like your iPhone's calendar app but does it in a much more eye-pleasing way. You start with a clock in the middle and add events to your day by dragging icons around your clock to give you a visual representation of your schedule, really allowing you to see what's coming up at a glance.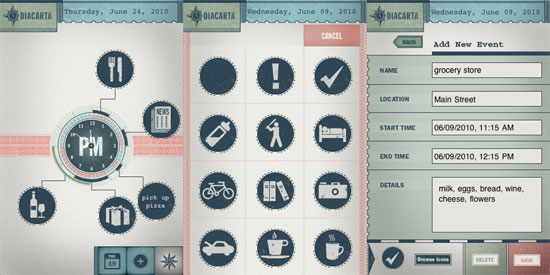 You can edit each event by double tapping on the icon, and away you go. The one thing I wish it could do? Import my Outlook events, since that's what I use for business. If that were the case, Diacarta would push my iPhone's stock calendar deep into the last page of my apps. They'll just have to live side by side until then.
See a demo video of Diacarta in action after the jump.
Have you found a cool download-worthy treasure you'd like to share with the rest of us? Join the Download of the Day group, where you can submit your favorite apps, downloads, and widgets. Your post could be featured on GeekSugar!