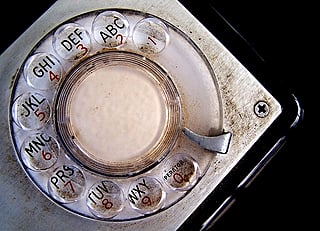 I recently read that a commuter train system in the Bay Area has replaced all the crisis hotline signs on the tracks so that the number is all digits instead of the previous 1-800-SUICIDE. The company's spokeswoman said that new smartphones are making it harder to dial a number that's given in words. Sobering reality aside, it got me wondering about the history of the alphanumeric keypad, and if they are becoming obsolete. Want to know why these keypads exist? Keep reading to learn more.
The alphanumeric keypad was used in the past for the two-letter prefixes that preceded a telephone number and identified where you were calling (like an area code does now). And who can forget texting with the same system on older cell phones, when you pressed the #2 three times to get the letter "c"?
Now that we use phones more for texting and surfing the web, many of us have a full QWERTY keyboard in addition to a phone dialer. Many touchscreen phones still have the alphanumeric pad on the phone feature, but I'm wondering for you BlackBerry users and others with combined phone/texting keypads, do these types of phone numbers ever trip you up? And as we move to full QWERTY features on many cell phones, not just smartphones, do you think the dual alphanumeric keypad will become obsolete?
Source: Flickr User flattop341